June 7-August 10, 2019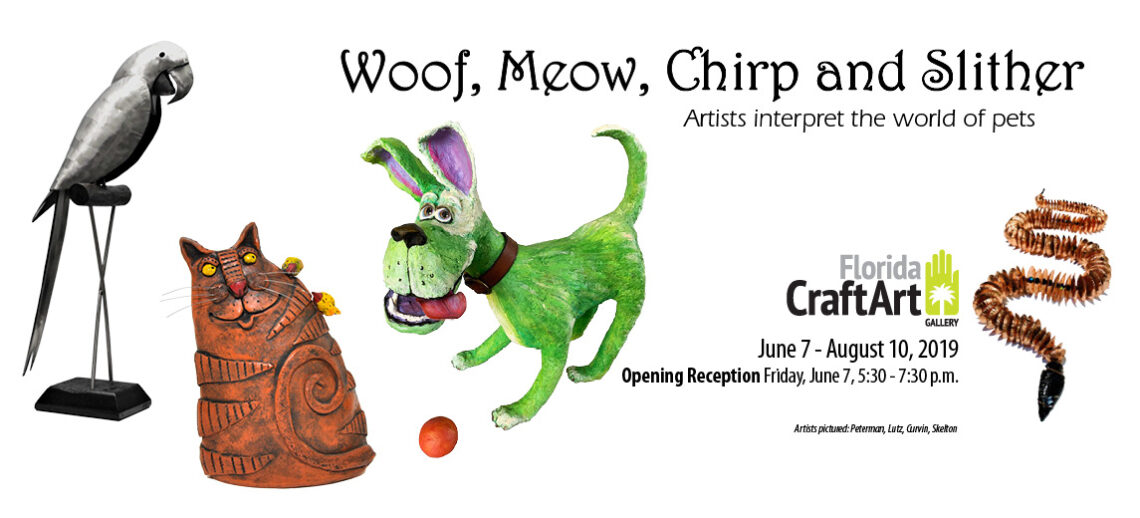 Florida CraftArt is participating with St. Petersburg's initiative, a national movement "Better Cities for Pets," as a pet-friendly city.
In this call-to-artists exhibition, artworks of "all things pets" will include fine craft artists creations, such as 3D portraits, artful storytelling, and functional items for pets and their humans.
Programming will include artists' demos, workshops, pet meet-and-greets, and partnerships with nonprofit organizations and businesses.
June 7, 5:30-7:30 p.m. Opening reception
August 10, 5:30-7 p.m. Closing reception and Peoples' Choice Award
Events are scheduled in an artful atmosphere to bring people together with their furry friends.
June 7 – August 10, 2019 See 'pawsitively' inspiring artwork, fun and educational programming that showcase how pets contribute to our health, happiness and longevity.
Friday, June 7, 5:30 – 7 p.m. Meet the artists, art lovers and pet people, at the opening reception.
June 13, 5:30 – 7 p.m.  Join Mayor Kriseman when he lets the' cat out of the bag' about the City's pet-friendly initiatives for St Pete PAWS. Meet some fur friends representing shelter partners and services.
June 24, 5:30 – 7 p.m. You can teach an old dog new tricks! Hear from our panel of local successful businesses who are making a difference by being pet-friendly.
July 18, 5:30 – 7 p.m. CASA nonprofit meet-up with a pack of local pet services and resources.
July 20, 1:30 – 6 p.m.  SPCA brings a doggone great day of events not to miss, that demonstrates achieving a 'Better Cities for Pets" certification.
1:30-3 Panel discussion and demo, How to help your pet make friends: Positive Training, Doggy Day Care, Good Grooming, Pet Walking and Recreation
3:30-5 Love at First Bark: Unexpected ways to encounter animals, meet and greet from goat yoga to Alligator Attraction
5:00-6 Yappy Hour with Meowgaritas
July 31, 5:30 – 7 p.m. Pet Planning Advice: Estate and Pet Planning, Disaster Preparedness, Hospice and more
August 3, 1:30 – 6:30 p.m.  Ask an Pro
1:30 –2:30 Tips for healthy indoor cats
2:30-3:30 CBD dog health
3:30 – 4:30 Responsible breeders
4:30 – 5:30 Ask a Vet panel
5:30 – 6:30 Yappy Hour for pets and their people
August 10, 5:30 – 7 p.m. Closing reception. People's Choice Award and paint your own Art Rock #MustLovePets
Bark out to our Sponsors:
Presenting Sponsor:

Hyatt, gotoSteves.com, Photo Station, West Paw
Important Dates for Artists
Opening reception and award announcements: June 7, 2019, 5:30 to 7:30 p.m.
Closing reception and People's Choice Award: August 10, 2019, 5:30 to 7:30 p.m.
Art Pick-up: August 11 – 12, 2019
For general exhibition information or questions related to the call to artists, contact: Florida CraftArt Gallery manager Liz Rogers at (727) 821-7391 or email Liz@FloridaCraftArt.org.