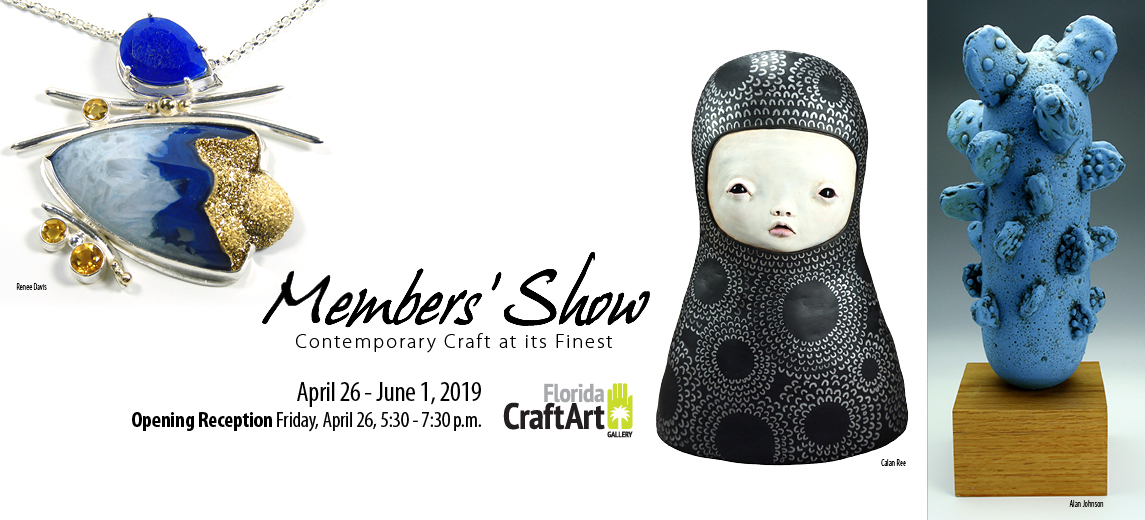 Florida CraftArt Members' Show Contemporary Craft at its Finest
This national, juried, call- to-artists exhibition of original fine craft artwork showcases the best of handcrafted work by our members.
April 26, 5:30-7:30 p.m. Opening reception
June 1, 5:30-7 p.m. Closing reception/People's Choice Award
Members' Show: Contemporary Craft at its Finest is a juried exhibition showcasing original art that showcases the best of handcrafted work by Florida CraftArt members. From across Florida, 36 artists created 110 pieces from intricate jewelry to ceramic sculptures. Visitors will have the opportunity to meet the artists at the opening reception on Friday, April 26 from 5:30 to 7:30 p.m.
Gallery Manager Liz Rogers points out several ceramic sculptures by Tampa Bay artists Kimberli Cummings, Alan Johnson and Calan Ree. The hefty cactus-like pieces by Johnson are contrasted by the sweet innocence of Ree's "Star Gazer" and the delicately handpainted vase by Cummings.
Renee Davis (Palmetto) created a contemporary necklace titled "Gold Rush Pendant" using 24-karat gold, crystallized druzy and a faceted Lapis teardrop.
Paying tribute to her late mother, Kim Radatz fashioned "Her Name Was Betty," a mixed media installation. "With this piece I was inspired by my mom's struggle with Alzheimer's," she says. "Though our experiences were from a different perspective, it was a struggle we shared together. I feel very grateful to have made this piece before my mom died. Although I never showed it to her, the process from conception to completion helped me deal with my grief."
Award-winning artist Nadine Saitlin (Boca Raton) chooses natural gourds as her canvas on which she paints wildly imaginative and colorful images. "The goal of my artwork is to create seductive surfaces and provocative forms that involve the audience in a visual adventure," she says.
"The first Members' Show was held in 1951," says Florida CraftArt's Executive Director Katie Deits. "As a statewide, member-supported organization, we display outstanding handmade objects, made by some of the best craftspeople in the country. Half of our gallery on Central Avenue features only Florida artists while the exhibition gallery, as well as our annual CraftArt Festival in November, showcases fine craft artists from around the world."
The exhibition will be judged by the Morean Art Center's new executive director, Howayda Affan who will present the awards at the opening reception. The show runs through June 1 when the People's Choice Award will be presented at the closing reception.
This exhibition is made possible in part with grants from
Important Dates And Information
Opening reception and award announcements: April 26 , 2019, 5:30 to 7:30 p.m.
Closing reception and People's Choice Award: June 1, 2019, 5:30 to 7:30 p.m.
Art Pick-up: June 2, 2019
For general exhibition information or questions related to the call to artists, contact: Florida CraftArt Gallery manager Liz Rogers at (727) 821-7391 or email Liz@FloridaCraftArt.org.